We were meant to be on a cruise ship in Alaska right now, cruising the fiords – but like so many thousands of others, that is not happening. So, we decided to fly up to Cairns and take the Savannahlander on a 4-day Savannah Explorer 850km rail journey that travels to the end of the rail line at Forsayth, and back. We did not sleep on the train – we stayed mostly at historic outback pubs. The train is mostly 2 carriages and 3 carriages in peak season. The exterior is polished and shiny, with
beautifully restored plush seating inside with wood finishing.
The Savannahlander traces an important railway system that was developed by John Moffat as part of his vast mining empire in the late 1800's.
We left Cairns on a Wednesday morning bright and early at 6.30 am. Leigh and Will were our drivers and not just our train drivers, but passing on interesting history of the rail line and information on the landscape and stations as we passed through them. The landscape changing from tropical to surprisingly green landscape. I was expecting dry dry, and was incredibly surprised to see green everywhere, and rivers and creeks still had water, and some with flowing water.
It took 2 days to get to the end of the line at Forsaythe. The rail line grade reduced from 90 pounds per yard to 60 pounds per yard, and then 45 pounds per yard by the time we arrived at Forsayth. It was wonderful to sit in the 2-carriage silver bullet carriage and feel and hear the clickity-clack as the train rolled along the old train tracks.
We were the first real group since the opening after COVID-19 closures. There were 15 of us. The previous week had 2 people for the four-day experience. So, things are looking up! Our first stop after leaving Cairns was the Stoney Creek Falls before passing through Kuranda. There is a carpark nearby, so it must be a popular tourist attraction. It was only us there though. Wonderful view of the waterfalls. A couple of organised stops and events on the itinerary were not open due to
everything just awakening from COVID-19 restrictions.
I did not realise that the Great Dividing Range was so wide, as after considerable travelling we descended the other side of the range. We travelled up and down the Bizmark Range.
After stopping to pick up and drop off passengers in Mareeba, we stopped at Dimbulah for a cuppa and wandered through the small museum setup in the old railway station. The area has a history of being the major tobacco growing in the country, until becoming not financially viable due to competition. The government at the time offered financial assistance to farmers to change to other forms of farming, which was taken up by many, and others closed. Onto Almaden for lunch– there is only the old classic Railway Hotel there now. It was hard to believe that Almaden was a major rail junction in its heyday.
After lunch at the Railway Hotel, we were taken on a 40-minute corrugated dirt road ride, with spots of bitumen, to our lodgings for our first night, at the Chillagoe Cabins. The Chillagoe Cabins are an absolute oasis. Colin, co-owner of the Chillagoe Cabins, took us on a historical tour of Chillagoe, stopping at old and existing limestone mining sites. We were able to pick up small pieces of mined marble to take home. The story goes that the high-quality marble used in the parliament house in Canberra came from Italy – which originated from here – Chillagoe – go figure!
The rail line from Cairns to Chillagoe opened in 1910 and connected the Etheridge gold fields. The last train arrived at Chillagoe in 1988. The area was also a smeltering operation for a small period from 1910-1911 when heavy rain washed away key railway bridges, and it was not financially viable to continue operations. We walked around the ruins. Four smokestacks are still just upright – but will not be for long as the brick work is slowly crumbling away.
The Chillagoe limestone caves were amazing and a must see if you are near the area. Wendy and Colin cooked up a delicious 3 course feast of seafood chowder, roast dinner, and cheesecake. In the morning, we were served a wonderful full hot breakfast.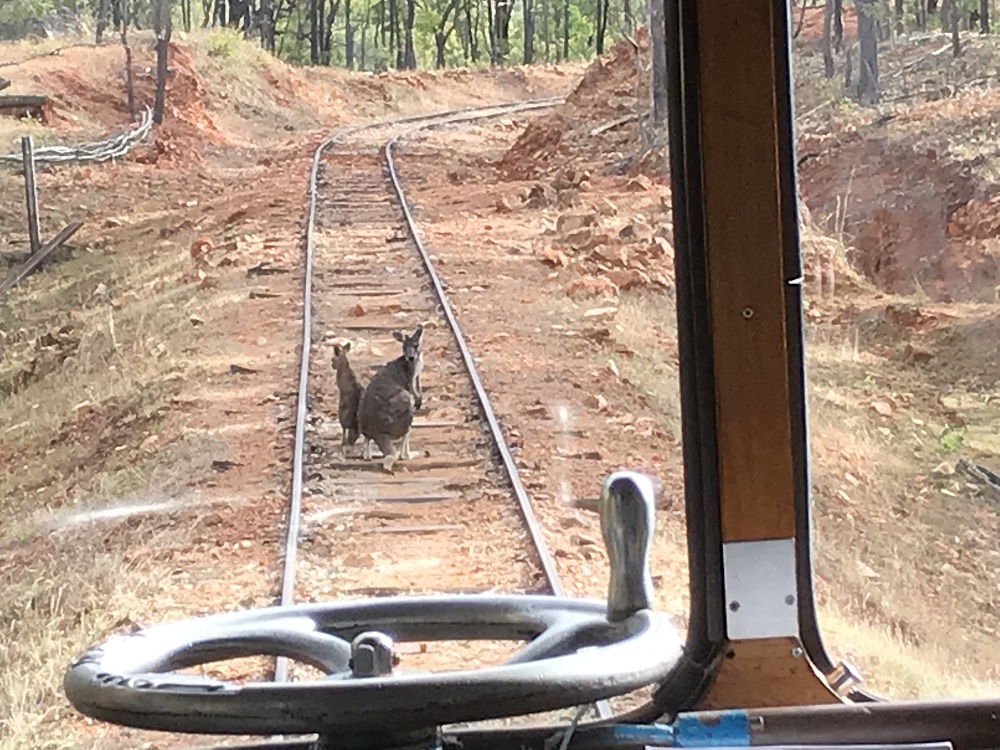 Leaving Almaden the next day, the rail line reduced to 45 pounds per yard. Leigh and Will had to keep very alert as we had cattle, kangaroos, monitor lizards, and even an ostrich wondering along the line as we clickity-clacked along the line. We passed through four cattle stations.
The Savannahlander stopped at points along the way, where Leigh and Will created a popup café with real leaf tea. No problems of just stopping on the line, as no other trains were coming along.
We wound our way up and down Mt Surprise, crossing several bridges. We stopped and saw a freshwater crocodile sunning on a rock in the middle of a river – it was only a small croc!
The town of Mt Surprise was mostly closed except for the petrol station. Fortunately, we had packed food and beers and had a lovely lunch in the park by the train station, and museum.
We arrived at Einasleigh in the early afternoon and wandered down to the Copperfield Gorge. Einasleigh sits on the banks of the Copperfield river, carved over 10 million years from basalt lava flow from an ancient volcano. It is a wonderful swimming spot.
We enjoyed a refreshing beer at the historic outback Einesleigh pub. In one of the rooms, where local and historical information is displayed, were glass display cases housing miniature historical settings of clothing, and people in everyday life in their homes – right down to the furniture, kitchen pantry items, can opener – absolutely every item miniaturised. However, there is one item on display that is not from that era – I found it, but I am not telling – you will have to go there yourself!
The end of the line and the day at Forsayth and the Finnigan's Rest pub. A good old pub dinner and back to our room at the pub. We were surprisingly exhausted.
Gold was discovered near Forsayth in 1871, which at the time was called Finnigan's Camp and later Charleston. The small town grew to four hotels, hospital, and school, amongst other buildings. The town declined after the Chillagoe Smelters were shut down and the towns importance as an ore-loading facility and centre for miners and their families declined. There were plans in the 1930's to extend the railway to the Croyden line. However, post WWII, this did not proceed.
Day 3 saw us heading back towards Cairns and included a visit through two of the many hundreds of lava tubes – the Undara Lava Tubes near Mt Surprise. You can only view the lava tubes by an organised tour with a guide – Joe was our friendly tour guide. For millions of years Undara was an active volcano. About 190,000 years ago there was a massive eruption and lava flowed more then 90 km to the north and over 160 km to the north-west, flowing at a rate of 1 kilometre per second, at
a temperature of around 1200 degrees Celsius. The Undara lava tube system is one of the longest in the world. We are able to experience this due to weaker sections of the roof of the tubes collapsing forming caves, some of which we can access.
We stayed at Bedrock Village at Mt Surprise in a very comfortable cabin and consumed a good old-fashioned roast dinner.
Our last day heading back to Cairns, arriving in Cairns just before dark. I felt a little sad when the train tracks improved in quality and we no longer heard the familiar clickity-clack.
What an experience. It was a trip down memory lane and to be able to travel this along the original rail line, where so many rail lines are being pulled up or left to be overgrown by nature, this is a gem and who knows how long this wonderful train journey will continue.
For me it is sad to see more and more railway lines being replaced with long road-train trucks chewing up our roads. In my opinion, this trend is financially short-sighted.
What have you swapped for your overseas or even inter-state trip during these times?
Again, as mentioned in a previous blog, I am so appreciative and grateful that I live in Australia and
that I am an Australian!
Be safe.
On another note – if you need any assistance with MYOB or Xero please do not hesitate in contacting me on 0410 819 783 or by email – hello@miebs.com.au
Visit us on Facebook, or visit our website here. Visit our other blogs here.